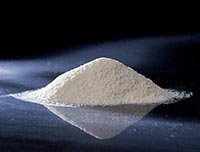 What is maltodextrin?
Do you read nutrition labels before you buy? If so, you're not alone.
Unless you're a nutritionist or dietitian, reading nutrition labels will probably introduce you to numerous ingredients you don't recognize. One ingredient you'll encounter in many foods is maltodextrin. It's a common additive in many processed foods, but is it bad for you? And should you avoid it?
Maltodextrin is a white powder made from corn, rice, potato starch, or wheat. Even though it comes from plants, it's highly processed. To make it, first the starches are cooked, and then acids or enzymes such as heat-stable bacterial alpha-amylase are added to break it down further. The resulting white powder is water-soluble and has a neutral taste.
Maltodextrins are closely related to corn syrup solids, with the one difference being their sugar content. Both undergo hydrolysis, a chemical process involving the addition of water to further assist breakdown. However, after hydrolysis, corn syrup solids are at least 20 percent sugar, while maltodextrin is less than 20 percent sugar.
Is maltodextrin safe?
The U.S. Food and Drug Administration (FDA) has approved maltodextrin as a safe food additive. It's also included in the nutritional value of food as part of the total carbohydrate count. According to the Dietary Guidelines for Americans, carbohydrates should make up no more than 45–65 percent of your overall calories. Ideally, most of those carbohydrates should be complex carbohydrates that are rich in fiber, not foods that quickly raise your blood sugar.
If you have diabetes or insulin resistance, or if your doctor has recommended a low-carbohydrate diet, you should include any maltodextrin you eat in your total carbohydrate count for the day. However, maltodextrin is usually only present in food in small amounts. It won't have a significant effect on your overall carbohydrate intake.
Maltodextrin is high on the glycemic index (GI), meaning that it can cause a spike in your blood sugar. It's safe to consume in very small amounts, but those with diabetes should be particularly careful. Diets consisting of largely low-GI foods are beneficial for everyone, not just people with diabetes.
Why is maltodextrin in your food?
Maltodextrin is generally used as a thickener or filler to increase the volume of a processed food. It's also a preservative that increases the shelf life of packaged foods. It's inexpensive and easy to produce, so it's useful for thickening products such as instant pudding and gelatins, sauces, and salad dressings. It can also be combined with artificial sweeteners to sweeten products such as canned fruits, desserts, and powdered drinks. It's even used as a thickener in personal care items such as lotion and hair care products.
What's the nutritional value of maltodextrin?
Maltodextrin has 4 calories per gram — the same amount of calories as sucrose, or table sugar. Like sugar, your body can digest maltodextrin quickly, so it's useful if you need a quick boost of calories and energy. However, maltodextrin's GI is higher than table sugar, ranging from 106 to 136. This means that it can raise your blood sugar level very quickly.
When should you avoid maltodextrin?
The high GI of maltodextrin means it can cause spikes in your blood sugar level, especially if it's consumed in large amounts. Because of this, you may want to avoid or limit it if you have diabetes or insulin resistance. It should also be avoided if you're predisposed to developing diabetes.
Another reason to limit maltodextrin is to keep your gut bacteria healthy. According to a 2012 study published in PLoS ONE, maltodextrin can change your gut bacteria composition in a way that makes you more susceptible to disease. It can suppress the growth of probiotics in your digestive system, which are important for immune system function. The same study showed that maltodextrin can increase the growth of bacteria such as E. coli, which is associated with autoimmune disorders like Crohn's disease. If you're at risk for developing an autoimmune or digestive disorder, then avoiding maltodextrin may be a good idea.
Maltodextrin and gluten
If you're on a gluten-free diet, you may be concerned about maltodextrin because it has "malt" in the name. Malt is made from barley, so it contains gluten. However, maltodextrin is gluten-free, even when it's made from wheat. According to the advocacy group Beyond Celiac, the processing that wheat starches undergo in the creation of maltodextrin renders it gluten-free. So if you have celiac disease or if you're on a gluten-free diet, you can still consume maltodextrin.
Maltodextrin and weight loss
If you're trying to lose weight, you will want to avoid maltodextrin. It's essentially a sweetener and a carbohydrate with no nutritional value, and it causes an increase in blood sugar. The levels of sugar in maltodextrin can lead to weight gain.
Maltodextrin and genetically modified foods
Finally, because it's often used as a cheap thickener or filler, maltodextrin is usually manufactured from genetically modified (GMO) corn. According to the FDA, GMO corn is safe, and it meets all of the same standards as non-genetically modified plants. But if you choose to avoid GMO, that doesn't mean you need to avoid all foods that contain maltodextrin. Any food that's labeled organic in the United States must also be GMO-free.